Finland Veikkausliiga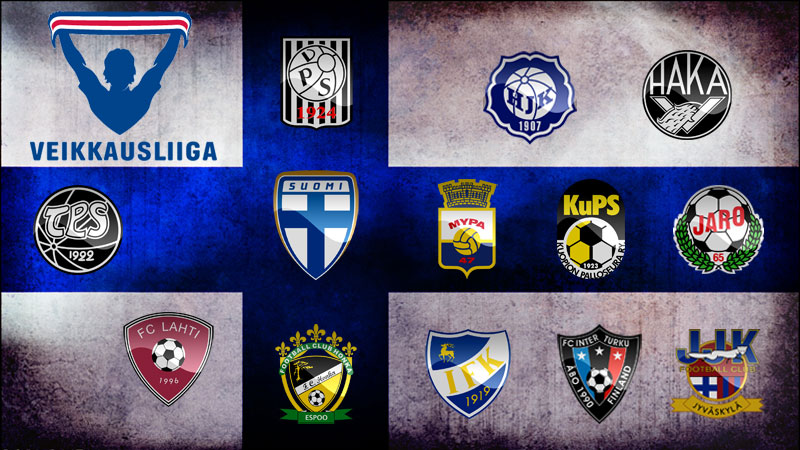 The Veikkausliiga was founded in 1990 and the country in which all domestic games are played is Finland, the confederation for this league is UEFA and in total there are 12 individual football teams playing in that league, which is the number one level on the pyramid of leagues.
If any teams get knocked out of this league they are then relegated to the Ykkönen and the domestic cups they will all be playing for include the Finnish Cup. Teams in this league will also be able to play, if they qualify, for international cups including the Champions League and the UEFA Europa League.
The current champions at the time of compiling this guide are HJK Helsinki and that is the 12th title they have won, and it is HJK Helsinki that have won the most titles that being a total of 12 times.
If you do want to find out any additional information on this football league, then simply pay a visit to the http://www.veikkausliiga.com website as you will find plenty of information on team news and the current placings and all up and coming fixtures in that league.
Teams and Stadiums in the Finnish Veikkausliiga
The Finnish Veikkausliiga clubs along with the home city, stadium name and the capacity of each of those team stadiums are fully listed below.
FC Honka play from their home ground of Espoo which is in Tapiolan and the name of their stadium is Urheilupuisto        which can hold some 6,000 supporters.
FC Inter Turku are a team that is based on Turku and the name of their stadium for reference is the Veritas Stadion which when it is full to its capacity can hold some 9,372 people.
FC Lahti as their name does suggest are from the town of Lahti and their stadium is the Lahti Stadium which is a large one as it holds some 14,500 people in total when full.
HJK is a team that is based on the town city of Helsinki and you will find that they play their home matches at the Sonera Stadium               which can hold a total of 10,300 supporters.
IFK Mariehamn play their home matches in the town of Mariehamn and they play all their home matches in the Wiklöf Holding Arena which is not that large as it only has a capacity of some 4,000 people in total.
Ilves are a team that hail from the town of Tampere and you will always remember the name of their stadium as it is named after the town which is the Tammela Stadion which can hold some 5,040 fans.
KuPS are a well-supported football team in this league and their home town is Kuopio they play all their matches at the Savon Sanomat Arena which when full holds some 5,000 people.
PS Kemi are a team that come from the town of Kemi and their stadium is known as the Sauvosaaren Urheilupuisto which can hold some 4,500 home and away supporters.
RoPS do have a fair number of fans as their home town is of course Rovaniemi and to watch them play at home you will have to visit their Rovaniemen Keskuskenttä stadium which has a capacity of 4,000 people.
SJK can be found playing at their home town of Seinäjoki from their OmaSP Stadion which has a total capacity of some 6,000 home and away fans.
TPS is one of the better supported teams that currently play in this league and that is probably due to them coming from one of the larger towns in Finland that being Turku. They play all their home matches from the Veritas Stadion and that stadium does have a very large capacity holding some 9,372 when it is full.
VPS is the last team to mention in this league and they are from the town of Vaasa and their home matches are all played at Hietalahti which holds 4,600 fans.
One of the benefits of being a fan of football in Finland is that you are not going to have to pay some crazy ticket prices to watch any of the teams play in this top league, for the entry fees and tickets prices are very low and reasonable, however one thing you ill have to battle against when you do watch any team play is the weather!