Serbia Super Liga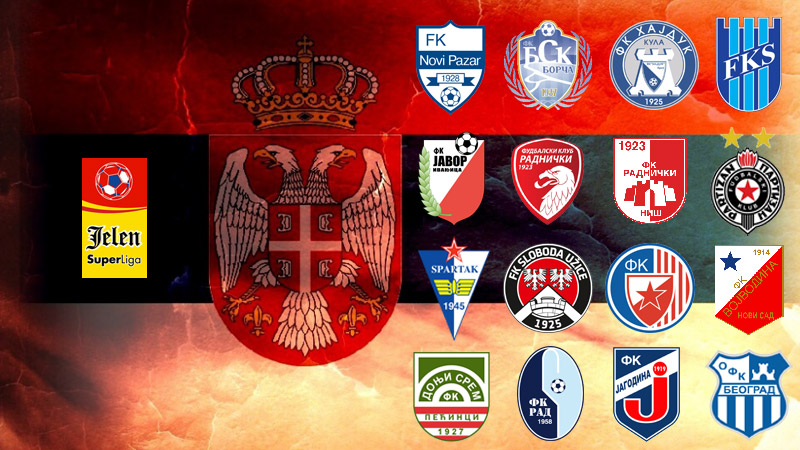 The Serbian Super Liga was founded in and the country in which all domestic games are played is Serbia, the confederation for this league is UEFA and in total there are 16 individual football teams playing in that league, which is the number one level on the pyramid of leagues.
If any teams get knocked out of this league they are then relegated to the Serbian First League and the domestic cups they will all be playing for include the Serbian Cup. Teams in this league will also be able to play, if they qualify, for international cups including the Champions League and the UEFA Europa League.
The current champions at the time of compiling this guide are Red Star and that is the 28th title they have won, and it is Red Star that have won the most titles that being a total of 28 times.
If you do want to find out any additional information on this football league, then simply pay a visit to the superliga.rs website as you will find plenty of information on team news and the current placings and all up and coming fixtures in that league.
Information on Teams in the Serbian Super Liga
In this section of my guide on the Serbian Super Liga I will be giving you an overview of all the teams in that league and letting you know when they first were promoted to that league and letting you know of their website address too.
Borac Čačak played their very first season in this league in 1994–95 and the name of their stadium is Čačak Stadium and you can visit their website at boracfk.com
Čukarički played their very first season in this league in 1995–96 and the name of their stadium is Čukarički Stadium and you can visit their website at fkcukaricki.rs
Javor played their very first season in this league in 2015-16 and the name of their stadium is Ivanjica Stadium and you can visit their website at fkjavor.com
Mačva   played their very first season in this league in 2017-18 and the name of their stadium is Gradski stadion Šabac and you can visit their website at www.fkmacva.com
Mladost Lučani  played their very first season in this league in 1995–96 and the name of their stadium is Mladost Stadium and you can visit their website at http://fkmladostlucani.com
Napredak played their very first season in this league in 2007–08 and the name of their stadium is Mladost Stadium and you can visit their website at fknapredak.rs
OFK Bačka played their very first season in this league in 2016–17 and the name of their stadium is Slavko Maletin Vava Stadium and you can visit their website at fkbacka.com
Partizan Belgrade played their very first season in this league in 1946–47 and the name of their stadium is Partizan Stadium and you can visit their website at partizan.rs
Rad Belgrade played their very first season in this league in 1987–88 and the name of their stadium is Stadion Kralj Petar I and you can visit their website at fcrad.co.rs
Radnički Niš played their very first season in this league in 1935–36 and the name of their stadium is Stadion Čair and you can visit their website at fcradnicki-nis.com
Radnik Surdulica played their very first season in this league in 2015-16 and the name of their stadium is City Stadium and you can visit their website at fkradnik.org
Red Star Belgrade played their very first season in this league in 1946–47 and the name of their stadium is Red Star Stadium and you can visit their website at crvenazvezdafk.com
Spartak Subotica played their very first season in this league in 1946–47 and the name of their stadium is Subotica City Stadium and you can visit their website at fkspartakzlatiborvoda.com
Vojvodina Novi Sad played their very first season in this league in 1931–32 and the name of their stadium is Karađorđe Stadium and you can visit their website at fkvojvodina.rs
Voždovac played their very first season in this league in 2005–06 and the name of their stadium is Voždovac Stadium and you can visit their website at fkvozdovac.rs
Zemun  played their very first season in this league in 1982–83 and the name of their stadium is Zemun Stadium                and you can visit their website at www.fkzemun.rs