World Cup Group Teams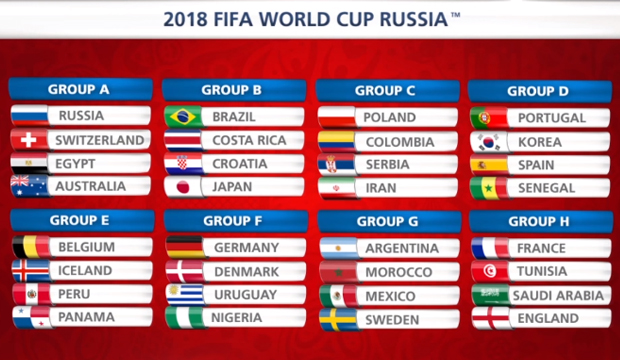 As we are now at the point in time when the Group Stages of the FIFA World Cup are about to start kicking off over in the host country of Russia, everybody with a passion for soccer will be getting ready to book their spot on the sofa if they have chosen not to travel to Russia to cheer their teams on.
In this guide I am going to be looking at the teams that make up each individual group in the FIFA World Cup 2018 and giving you an insight into which teams are the most likely ones to make it to the top of each group too.
Group A Soccer Teams
The four teams that have been drawn to play in Group A are Russia, Saudi Arabia, Egypt and Uruguay. With Russia being the host nation, it is of course that team that many people do think are going to breeze through the group stages and progress through the tournament.
However, I do like the chances Uruguay, for whilst they are a good team home or away when you look at the strengths of each of the other teams in Group A they must have thought that their Christmas's had all come at once when they were drawn to play in that group.
Group B Soccer Teams
It is Portugal, Spain, Morocco and Iran that have been drawn to play off their Group Stages matches sin Group B and as far as talent and experience and of course skill goes it is very hard to look at the latter two named teams when you consider the achievements of the former two teams over the years.
However, they do say that anything can and probably will happen during the Group Stages of the FIFA World Cup, and whilst it is hard to see Morocco or Iran leading this group I wouldn't say it is totally impossible, however it does seem highly unlikely!
Group C Soccer Teams
The teams that have all been drawn to play each other in Group C are France, Australia, Peru and Denmark, and even though all four teams have a chance of heading this group you do have to feel sorry for the latter three named teams to have to play against France.
When it comes to the FIFA World Cup tournament France have an outstanding track record and you should be in no doubt that they have one of the very best chances of topping this group based on the three other teams that they will be playing against in the Group Stages.
Group D Soccer Teams
If there is just one team that stands out as the most likely winner of Group D it is of course Argentina, for they do have an outstanding track record when playing at this top tier and they are likely to be the team that will top Group D for sure.
The reason for me saying that is that when you look at the quality of their opponents in this group that being Iceland, Croatia and of course Nigeria those three teams do look likely to be outclassed. Whether or not that will be the case you will have to tune in and watch each of the matches that do make up Group D!
Group E Soccer Teams
There is a sneaking suspicion that even though Brazil do have the best chance of being declared the winner of Group E, that one of the other teams could in fact claim the group and which of those three other teams could be the one to beat Brazil is open to debate of course.
Whether Switzerland, Costa Rica or even Serbia will have what it takes to take the likely crown off Brazil in this group could be dated for a very long time, however never overlook the individual qualities of each of those three additional teams, for at the end of the day they have made it through to the Group Stages on their own merit.
Group F Soccer Teams
One group that is going to prove a puzzle for anyone that wants to try and pick the winning team from that group is of course Group F for there are a few teams in this group that could win it and win it very easily too.
The four teams that have been drawn to play in it are Germany, Mexico, Sweden and the Korea Republic and except for the last-named team each of the other three have history that proves beyond any reasonable doubt that they could win this group and win it quite decisively too.
It is of course Germany that many people think are going t0 breeze through the Group Stages, however you should never underestimate the skill of teams such as Mexico or even Sweden for there is no doubt in my mind that with a little bit of luck in playing any of those two teams could find their very best form and get through to the next stage.
You never know though, if history has anything to go by, it could be the rank outsider that being the Korean Republic that does surprise everybody and somehow manages to lead the group, but that is highly unlikely let's face it!
Groups G Soccer Teams
The four teams that are in Group G are Belgium, Panama, Tunisia and England and if I had to pick thee two teams that have the skill and proven abilities to get to the top of this group then it is both Belgium and England that I would pick to do just that.
Group H Soccer Teams
The final group is of course Group H, and I do have to say that this group is one of the most puzzling of them all when it comes to picking the team that will end up at the top of the group once the Group Stages are over.
The four teams are Poland, Senegal, Colombia and Japan, but for reasons I am not completely sure of I do think that it will be Japan that will end up at the top of this group, whether you agree with me or not that is something I am convinced of!